Asian gaming giants threaten to "gobble-up" western competitors
Chinese tech giant Tencent plans to double its stake in Ubisoft, France's biggest video game maker known for its "Assassins Creed" and "Tom Clancy" game franchises.
The deal, which would represent almost a $300 million investment from Tencent, is just one in a string of announcements of deep-pocketed Chinese gaming giants trying to break into Western markets.
Tencent, which is China's largest social network and gaming firm, will soon control a 49.9% stake in Guillemot Brothers Limited, the holding firm owned by Ubisoft's co-founders, which itself represents the family's 15% stake in the $10 billion French gaming giant.
The deal also gives Tencent the right to raise its direct stake in Ubisoft from 4.5% to 9.99%.
The relationship between the two companies began back in 2018 when Tencent first bought up a 5% stake in Ubisoft, worth around $265 million back in 2018.
How did investors react?
The news comes as a relief for Ubisoft's stock price.
Over the past year, shares have fallen by more than 50%, thanks to a combination of game delays and sexual harassment claims, the latter of which lead to a significant shake-up in senior management.
After the Tencent announcement, however, shares were up as much as 17%.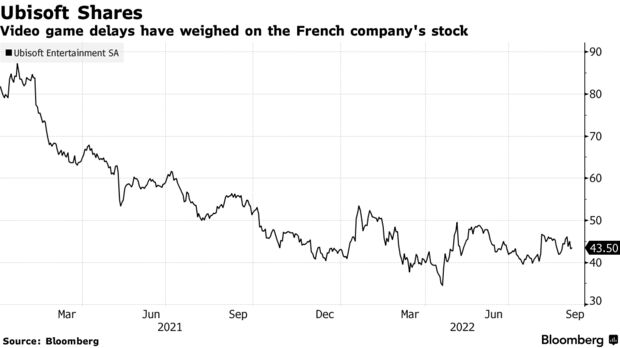 "Overall it's a bet by Tencent that Ubisoft can improve its execution and unlock value in its catalogue of intellectual property (IP), the pair can create new mobile games based on that IP and that they can bring existing Ubisoft titles into China once the regulatory climate improves," said Matthew Kanterman, director of research at Ball Metaverse Research Partners.
Asian gaming giants continue to expand
It's not just Tencent that's going on a buying spree. The rest of Asia's gaming giants, including Sony and NetEase, have been hungrily expanding overseas to mitigate tighter regulation in home markets.
Last year, Chinese regulators restricted the amount of time those under 18 years old could play online games. Additionally, this also included freezing the approval of new titles, with all new games needing to be green light from regulators. Said approvals only just restarted in April.
At the same time, a surge in Covid-19 cases and subsequent lockdowns have led to a terrible quarter for revenue growth, especially for China's tech giants. The difficult domestic market is one reason why said companies are so eager to expand overseas. Just last week, China's NetEase purchased French game developer Quantic Dream.
"Tencent and NetEase have built up their gaming business primarily in their home turf China. Now that their home market is becoming increasingly regulated and difficult to operate in, these two companies will accelerate their global expansion strategy," said Tom Wijman, market lead for games at data accompany Newzoo.
For the most part, said investments have been rather small, with this Ubisoft stake marking one of Tencent's larger foreign investments in recent years.
However, rumours have long been circulating that Tencent might consider making a much bigger investment.
Back in 2021, sources claimed that the Chinese gaming giant was raising billions of dollars to buy out a triple-A Western studio, such as Electronic Arts (EA) or Take-Two Interactive (TTWO).