Falling Yuan could trigger historic sell-off for global commodities
Experts are warning of a further rout in the commodities market as the Chinese yuan continues to weaken.
China continues to be the world's largest importer of raw materials, however, a combination of new virus outbreaks, a looming property crisis, and power outages across the country have been playing havoc with the nation's economy.
With nothing but bad news coming from Beijing, it's no surprise that the value of the yuan has steadily fallen, now down to $0.14.
Since China, like most of the world, buys commodities in U.S. dollars, a weakening Yuan makes it that much more expensive for Chinese importers to source raw materials, reducing demand.
It's one reason why Bloomberg warns that prices of crude oil, iron, copper, and soybeans could continue to fall.
The most pertinent example is oil prices.
Despite the ongoing energy crisis in Europe, prices for international Brent crude have tumbled down to $92 a barrel after hitting almost $130 abarrel in March.
China's strict zero-Covid policy is considered the main catalyst for why prices have recently been as low as they are.
A Host of Problems
Economic news from China has been mixed at best.
The country's Caixin index, which tracts industrial activity across the nation, officially entered negative territory last week. Prior to that, the index had seen over two months of steady expansion.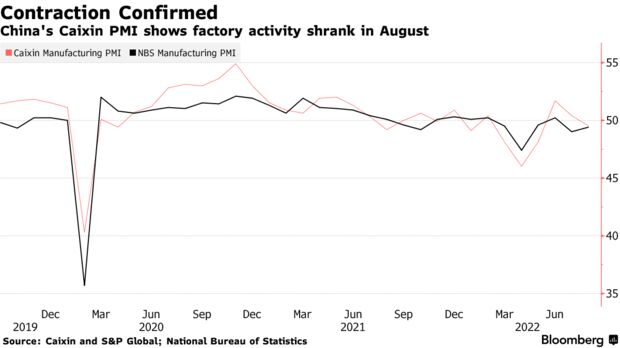 One big reason for this has been the ongoing power shortages across the country.
More 19 provincial power grids have broken records for electricity demands due to the peak summer season, while residential consumption has been up over 26.8% since last year.
Power restrictions and blackouts have taken their toll on the country's manufacturing activity, which shrank for the first time in months.
"The Covid-19 flare-ups, the extreme heat wave and restricted power usage resulted in a slight deterioration in overall business conditions in the manufacturing sector," said Wang Zhe, senior economist at Caixin Insight Group.
A decline in manufacturing will also reduce demand for raw materials, further pushing down global commodity prices.
The Silver Lining
While bad news for importers, a cheapening yuan makes Chinese manufactured goods more enticing to international markets, bolstering Chinese exporters.
"It will be a boon for export-focused companies that would stand to gain by shipping more finished products, whereas importers will face a rise in raw material costs. It's hard to really say who is the winner and who is the loser," said analyst Chaohui Guo.
Although cheaper Yuan might be a mixed bag for Chinese companies, depending on which side of the import-export equation you're looking at, it's also good news for everyone else in the world.
Rising commodity prices have been one driver of inflation, with rising material costs being passed on to consumers. For that reason, a selloff in the commodities market could help ease inflation concerns around the globe.