India's 'secret plan' to take over the global chip market
Industry analysts are now predicting that India could become a powerhouse in the global semiconductor market.
The world's fifth largest economy is looking to boost its domestic semiconductor sector, and a few little-known policy decisions could be the catalyst for this massive chipmaking revolution.
India has historically not been in the running of top countries for the semiconductor sector, hence why there's a significant lack of Indian chip firms or domestic manufacturing at present.
However, some analysts think that's about to change.
India's main advantage is its huge population. That includes a large consumer base, but also an affordable and well-educated labor base.
Both are attractive propositions for companies looking to diversify their operations away from existing chip powerhouse nations like Taiwan and South Korea.
"India's strength is the huge domestic consumption market when it comes to semiconductors, being the second-largest populous economy in the world," said analyst Neil Shah of Counterpoint Research.
"Also, India has loads of English-speaking engineering talent and (a) cheaper labor force making it cost effective."
Could India pull it off?
Ever since the pandemic, shortages of this critical technology have spilled over to affect countless industries, from smartphones to refrigerators to automobiles.
It's one reason why many investment experts consider semiconductors to be one of the best investment opportunities of this decade.
Most semiconductor production currently takes place in Taiwan, which accounts for over 54% of the global $743 billion semiconductor market.
The next largest producer is South Korea. Together, Taiwan and South Korea account for 80% of the world's semiconductor production.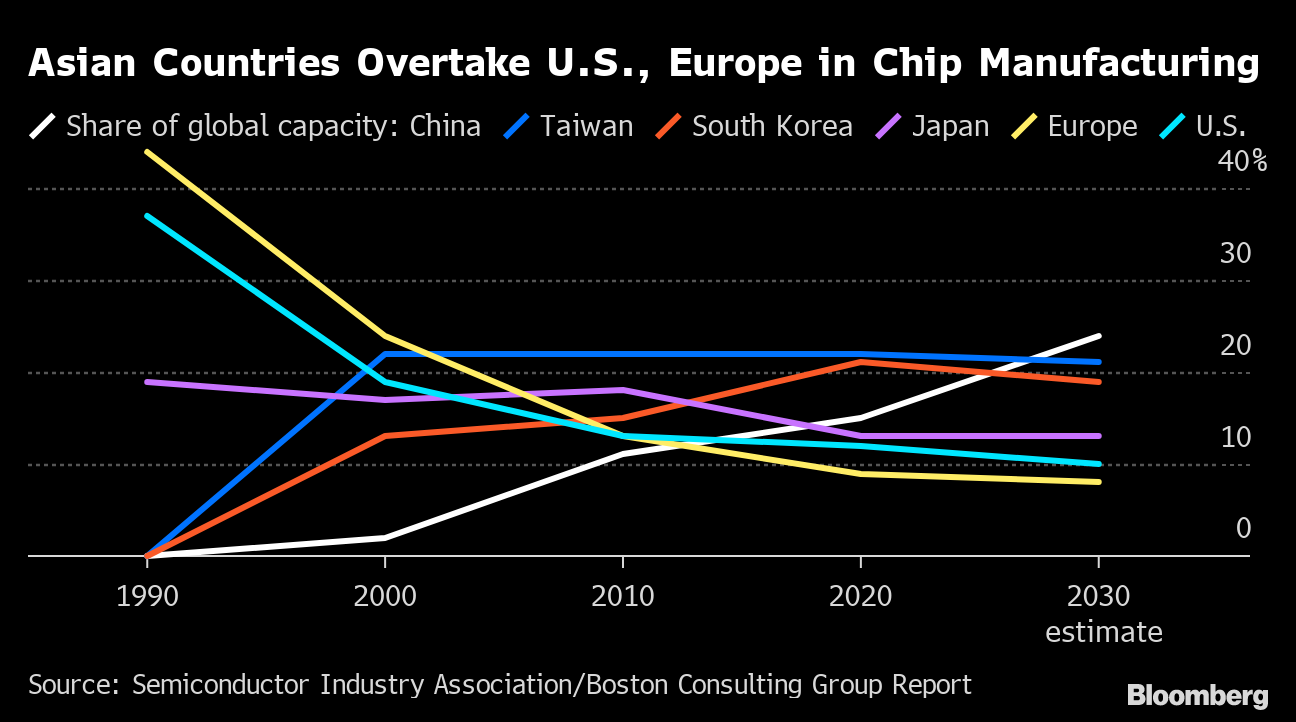 However, a future conflict with China could pose a risk to global chip supplies.
That's one reason why countries like India have been making moves to bring chip manufacturing inside the country, laying out significant incentives for companies looking to make the jump.
"The next step is the effort to build an ecosystem where there is some Indian IP (intellectual property) by Indian companies," added analyst Pranay Kotashane in a CNBC interview.
What makes this time special?
In December of last year, the Indian government approved a $10 billion package to encourage domestic semiconductor manufacturing.
Since then, only three companies have submitted plans for starting plants in India.
This includes Taiwanese contract manufacturer Foxconn, a consortium called ISMC, and Singapore-based producer IGSS.
The largest of which is Foxconn, which assembles Apple's iPhones. The company is planning to build a $19.5 billion chipmaking facility in the country.
The government plans to subsidize 50% of the investment costs for setting up fabrication plants.
Unfortunately, ISMC will only be making older generation chips rather than the cutting-edge chips produced by Taiwanese giants.
These older chips, also known as trailing-edge semiconductors, will still have plenty of demand from 5G applications and electric vehicles.
Most current defense applications also require trailing-edge chips as well.
That being said, India's track record is far from stellar.
Back in 2005, bureaucratic hurdles ended up scuttling multiple plans of multinationals to set up plants across the country.
Further attempts to attract chipmakers back in 2017 and 2020 also failed.
Time will tell whether this time will prove different.
However, the tighter chip market of today, even if less starved than the 2020 market, might be enough to encourage more companies to give India a shot.