OIL PRICE NEWS: $4 spike as OPEC ponders drastic action
The oil price has jumped $4 as OPEC and its allies consider a drastic plan to prop up the struggling crude market.
It's been revealed the policy group could cut production by more than a million barrels per day, in what would be the biggest such move since the early days of the Covid-19 pandemic in 2020.
The action could be taken during a meeting on Wednesday, amid weakening oil demand in countries like China.
Some sources are reporting the cut could even be as significant as 1.5 million barrels per day.
During the 2020 oil crash, the cartel decided to cut more than 10 million barrels per day in cumulative output to prop up prices.
At the time, oil had plummeted to below $20 per barrel, with prices at one point entering negative territory.
The group has since spent the subsequent two years steadily unwinding from said cuts.
However, the recent 30% drop in crude price seems to have pushed OPEC into action once more.
Why are oil prices crashing?
Weakening demand from China, the world's largest oil consumer, is the primary cause of this recent slump in crude prices.
China was the only country to continue its strict Covid-19 lockdown policies, impacting the economy and greatly lowering oil demand.
The World Bank recently said it expects China's economy to expand by just 2.8% in 2022, down from the early 4.3% prediction back in June.
At the same time, China is turning to Russia for cheaper oil, while Europe's being forced to buy more expensive crude from Middle Eastern countries due to the Russia-Ukraine conflict.
Where will oil prices go from here?
Prices were crude oil were up over 4.1% following the news, with international benchmark Brent crude at around $88/barrel.
Most experts believe OPEC will try to keep prices at around $90/barrel or above for the time being.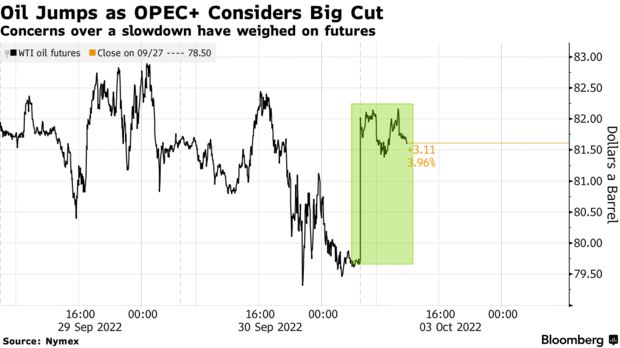 In particular, Russia is putting pressure on OPEC countries to go with further supply cuts, as the nation is trying to maximize energy revenues after the recent selloff pushed the country's budget into a deficit.
Banks such as J Morgan have said that OPEC+ would need a production cut of at least 500,000 to stabilize the oil market once again. Anything less than that, and the commodity market will simply shrug it off.
"Only OPEC+ can wake up oil prices from their current slumber," said Viktor Katona, an analyst at energy analytics firm Kpler in Vienna.
How will the U.S. react?
The move is expected to anger the U.S. foreign policy officials, many of whom have been putting pressure on OPEC to increase oil production to help lower prices.
Rising energy costs have been a major driver of inflation, hence becoming a political issue for the Biden administration and U.S. central bankers. It's one reason why some experts say the chance of a global recession has skyrocketed.
OPEC cuts is also bad news for the Eurozone, which is now relying almost entirely on Middle Eastern exports.
Inflation recently hit 10%, with energy prices up over 40.8% over 12 months.
Do you want insider tips on what's happening in the global oil market? Subscribe FREE to 'Our World This Week'
The weekly newsletter provides investment ideas, analysis and commentary for this specific point in history. Find out more by clicking here.